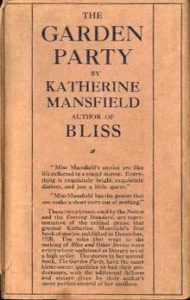 And it seemed to her that kisses, voices, tinkling spoons, laughter, the smell of crushed grass were somehow inside her.
*
"It is necessary to read no more than two or three of Miss Mansfield's stories before discovering that she has great talent. And after reading all of them, including her first volume, Bliss, there is no doubt at all that this talent amounts to the rare thing which a lack of a juster word to express our enthusiasms we call genius, and that her name must be added to that small company of the living—so small that they could all get into one Lexington Avenue car without straphanging—who really have something to say, and can say it uncommonly well.
Miss Mansfield does not write what one usually thinks of as a 'short story.' She is interested in people, not in plots, in the substance and color of life, and not the chess patterns that can be made with it. There is only one story of hers (in Bliss) that unwinds to a too dexterous end. It is of a shy young art-student in Paris who to make the acquaintance of a French girl follows her as she goes about marketing, follows her to her door, where, holding out an egg, he says: 'Mademoiselle, you dropped this.' But this is almost the only case in which she manoeuvres her story to the edge of an unsuspected cliff. For the most part she is trying to reproduce the feelings that a certain kind of person has in a certain—and usually a very slight—situation, the moods that pass over people in one day, or the small fraction of a day. In this she is admirably successful. She has an extraordinary ability to give you in a story a total effect of beauty without using phrases any one of which stands out, and without letting you know how she has done it.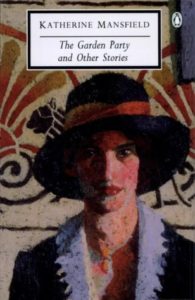 "All the more difficult is her art because it deals with what on the face of them are such trifles, with passing joys, old sadnesses suddenly unburied, the particular feeling of a time of day, the brief moods that chase each other across human souls like small shadows across the water. She is a connoisseur of the ripples that mean so much more than waves, a collector of little emotions caught on the wing, never pinned or bottled in her pages, but kept alive there in all their fragile iridescent colors.
The Stories in The Garden Party are more about the moods and emotions than about the people she chooses to have feel them, and a reader will remember those moods longer than the characters they for a moment possessed. In 'The Voyage' a little girl travels for one night only on a steamer, and nothing in particular happens to her, nor is she at all a memorable little girl. But one will not easily forget the sad, transparent beauty of those few hours, into which Miss Mansfield has packed the half-melancholy, half-exciting strangeness that everyone has felt when very young and going to a new place. What it is like to go to your first ball, or to be alone and defeated and voiceless in a gray world ('Life of Ma Parker'), or to meet your wife on the pier and feel a perfectly explicable but senseless barrier before you affection ('The Stranger'), or the feelings of a family toward each other and by themselves in a country house on a bay—these are Miss Mansfield's subjects. And when you are through you realize that her subject is, after all, not the thing as so many of us recreate and re-imagine it, but life itself.